A-Linje Axelbandslös Asymmetrisk Spets Bröllopsklänning med Beading
#226
recensioner
Skriv en Recension
Oh my goodness, I can't say enough about this dress. The dressmaker really did a fantastic job! I went to a couple different wedding thrift stores, plus David's Bridal in both Iowa and Wisconsin. All in all I tried on 24 dresses and couldn't find "the one". Who would've thought that browsing online, I would have found it in an instant. We are having a country wedding, so I'm wearing this with cowboy boots and a red satin belt/sash. The only thing I had to do is shorten the hem (easy enough to do as the lace hem is sewn over the bottom of the dress. Just remove and move it up) and there were a couple longer strands of clear line that attached the beading. I just trimmed them with a scissors (there was only like 4). Honestly they really did a wonderful job!!
Joanna Alcorn
2017-05-10 11:27:26
I absolutely LOVE my dress!!! Thank you so much! I ordered a size two, I did not have it altered at all. It is long on me but I knew it would be when I ordered it since I'm only 4"11. I have to say, this dress is a very good quality! I will be buying my bridesmaids dresses from this site also!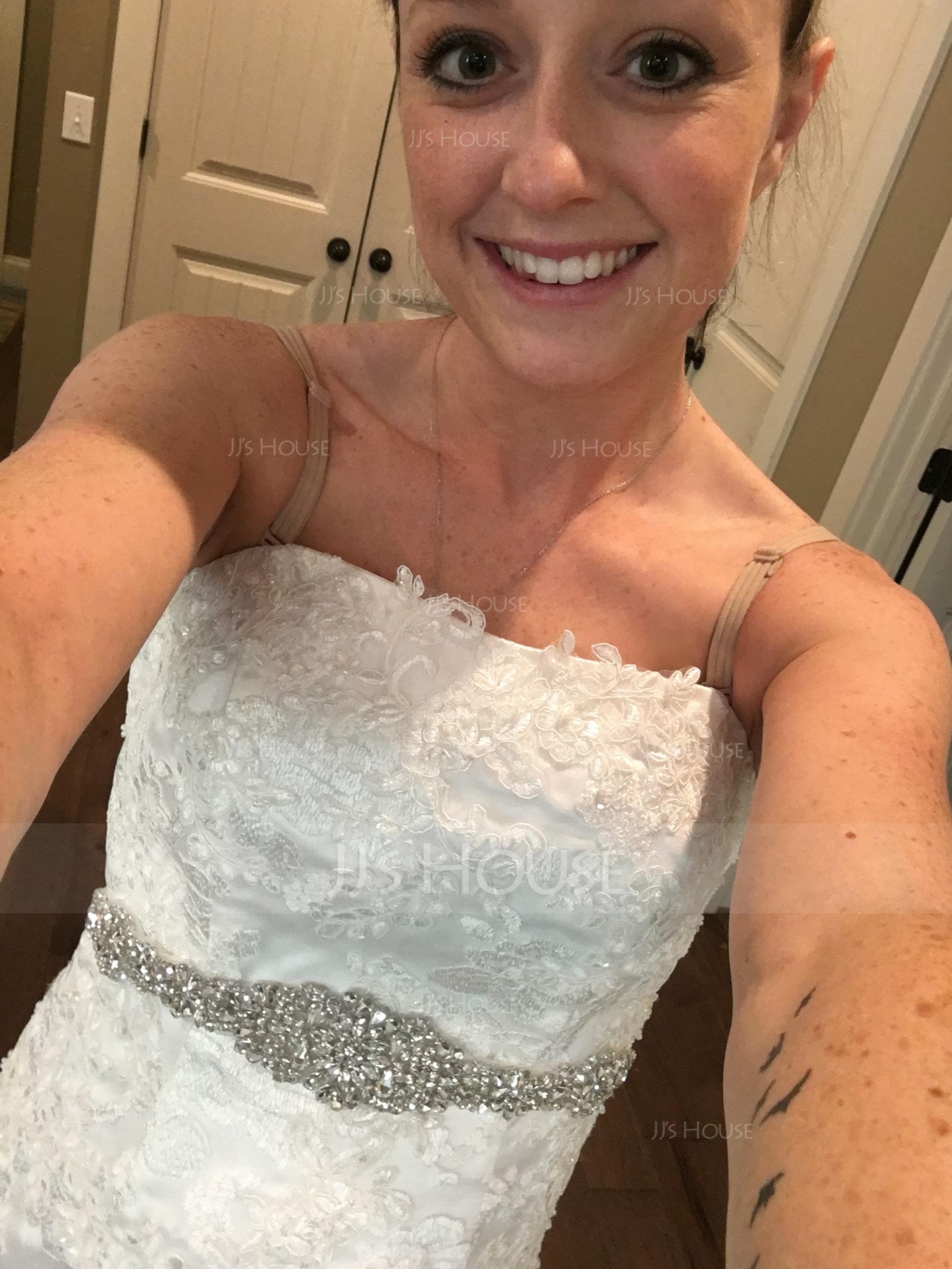 Kathleen
2017-05-03 22:01:09
A stunning dress! It's exactly what we were hoping it would be and if you are looking for a lacy asymmetrical dress; this is it! I can't wait to see it worn by my sister on at her river wedding.

Kata Hargitai-Boros
2016-04-04 20:46:17
Best choice ever,and it cost only 140€. This dress just made my big day perfect.

Tirish
2016-01-15 17:21:36
The dress was well made and was as gorgeous as it looks. I only had to make slight
alterations. Thank you for such a wonderful dress.
katiaribeirokatia
2015-09-23 03:34:35
It's a bit different from the picture. I was expecting a lighter dress with more movement. Even ordering a tailoring size, it was too long for me. It is the dress I chose for the civil wedding and it was too shiny for the occasion (11am), so I removed all the beads. In the end of the story I had to spend more €90 to fix it. But I was happy anyway! It's beautiful!!!

Shona.marie.mclean
2015-09-11 07:15:27
The dress arrived within 2 weeks, nicely packaged. The dress was everything I expected, more beaded than the picture displays but very nice. Thankfully it has wide seam allowances on underdress and lace overlay as I gave wrong waist measurement, so am on a strict diet to fit it. The dress has a fitted bra incorporated in it. I'm very happy with the dress.
katekiddomail
2015-09-04 10:58:13
it is very well made. Feels thicker than it seems in the picture. The only part I don't like about it is that the underskirt is double layered, which makes is stiff. The underskirt is sawn into the side seams, which makes the sides stick out and makes the bottom part of your dress look like a flat triangle. I wish the lace part was not attached to the underskirt on the sides to make the dress more flowy and movable. Otherwise, it's a beautiful dress, I love it.

janesalvador2
2015-04-17 17:08:31
I was able to receive this order in time for the trip to Hawaii and I'm so grateful. The fit was perfectly tailored to the measurements I sent. It was as I expected it. Beautiful and elegant.
c.sousa56.cs
2014-04-01 06:23:02
I would like to say Thanks so much for my beautiful Wedding Dress it is amazing and it fix just perfect well made. Your delivery was very fast with in 3 weeks of placing my order..
Thanks so much.
Cathy Sousa.