Balklänning V-ringning Chapel släp Satäng Bröllopsklänning med Broderad Beading Paljetter
#15473
recensioner
Skriv en Recension
Candice Burger
2019-07-02 22:22:03
Shipped all the way to South Africa! I am so happy with my dress. The picture does not do it justice :)

Delivery to the exact time I was given. Most of all, the detail on this dress is more than stunning! The quality of the material is exceptional. I was nervous ordering overseas, but man am I more than happy. Thank you for contributing to my special day JJ's! So happy!
ottencarl
2017-08-01 15:00:20
marymo1965
2017-04-26 19:20:20
This is a beautiful dress. Great quality. I'm so impressed! I love it. It fits perfect. This is the try on, not the wedding day. This is fresh out of the box! I'm not train trained. Lol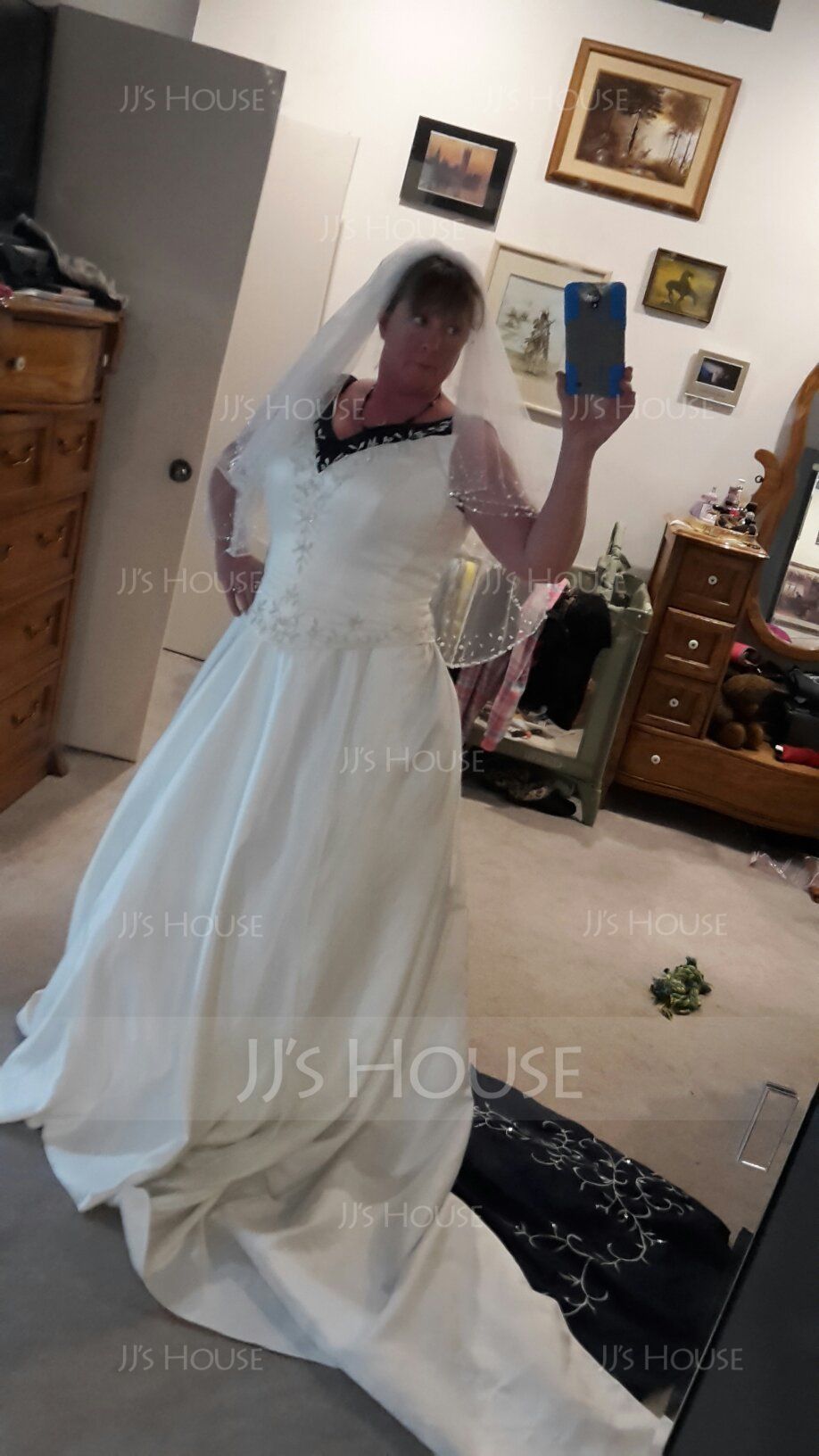 dbeauch17
2015-12-28 18:12:26
My fairytale dream come true dress is elegant great material fit to size and overall amazing! Thank you!
Smitie7
2015-12-17 09:37:12
More than what I expected, detail in this dress was and is amazing. Fits perfectly.
rockwoman82
2015-12-13 21:18:31
My dress was perfect. It made me feel beautiful on my wedding day. The dress are exactly like the one on the picture. The color is exactly the same. This dress was perfect and really my dream wedding dress. Thank you for helping me to get the perfect wedding dress.
alanahogan91
2015-05-04 00:36:44
Thank you so much.. i am deeply in love with my wedding dress... being a bit iffy about ordering online i have recieved such great feedback from people and decided to order and i am so glad i did it is more then i could have imagined and the photos do not do the justice of what it looks like in person.. custom sized and fits like a glove...
thank you thank you thank you
Tarin Hoffman
2014-03-17 16:16:44
I ordered this gown for my wedding. Since I was ordering online I was very nervous and concerned that the dress would not be as beautiful as in the picture, or that I would somehow be ripped off. However, this gown was the most beautiful gown I have ever seen in my life! I am very pleased, and the picture does not do it justice. I will order from here again soon. The only negative thing I have to say, is that I was surprised with brokerage fees that I was unaware of. They were well worth it though, considering this gown is perfect. I give it 5 stars and would give it 10 if there were an option!
liliccsc
2013-12-13 16:46:54
The dress was made beautifully and is the same as the picture. The fabric quality is good. Perhaps could improve the stitch a bit. However, provided my customised dress was made within such short time, I am still very happy with the dress:)