Balklänning V-ringning Tea-lång Tyll Bröllopsklänning med Skärpband Beading Applikationer Spetsar
#14739
recensioner
Skriv en Recension
Bianca B
2020-03-21 09:34:31
I was so skeptic about ordering my wedding dress online and when a colleague told me that she had ordered hers from JJsHouse, I started looking it up and I've found my desired one. I live in Luxembourg so you can imagine how many doubts I've had, but soon enough I've started to be surprised with the service received. I've ordered my dress (and a veil) custom size and I've received it within one month. Excellent quality- materials, design and size, excellent price and excellent service. I am so happy with choosing JJs for my big day.

I would specifically want to thank to MariCris, Cris, Faye and Roxan for longly chatting and assisting me anytime I had question. Thank you!



cwlmsw12
2020-02-02 16:55:37
Its even better than the picture. I was worried it would not be full enough, but it is! It has a lot of volume and pretty details.

Daria Keegan Winker
2018-08-28 07:23:41
Got this for my daughter. Came quickly and was well made and fits well. Only needs a slight alteration in the shoulders.
ausblue29
2018-08-16 16:41:41
This dress was gorgeous! Just what I hoped for, very well made and the perfect fit! I'll definitly tell others where I bought my wedding dress from.

briggs_s18
2018-06-28 02:59:53
So beautiful, all the details are amazing and the colour of the sash matches my theme perfect.
I can't wait to wear it on my wedding day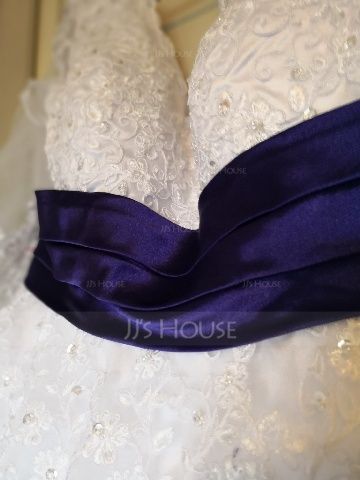 michelleerik
2018-05-02 09:08:42
The bride loves the dress but it does not fit. Plans to reorder and pay for custom fit. Expensive to return.
amici.di.lorenza
2018-04-13 07:49:18
Will place pictures later, but the dress just arrived and it;s beyond expectations. I ordered a regular size 34 EU and it fits perfectly.
I ordered two dresses for the childeren, they also are superb!
dorisalice54
2018-02-27 12:12:04
Bought this dress and love it
browneyedgirl_x
2017-08-29 13:53:45
From the moment I saw this dress it was the only one in my head so I ordered it - I'm not skinny and sadly don't look like the model
iveson.sophie
2017-08-01 00:41:19
Pictures of my stunning dress