Slut
Trumpet/Sjöjungfru V-ringning Chapel släp Chiffong Bröllopsklänning med Rufsar Beading Paljetter
#5012
recensioner
Skriv en Recension
amanda797
2018-05-29 03:57:58
So happy with this dress. Came on time. Exactly as described.
Embellishment wonderfully done. I am a size 8 I was worried I would have to pull the dress in but fitted perfect.
Happy to find a little tab to hold the back of the dress. Also two poppers holding the embellished back to the back of the dress. Makes so much easier to put on with my hair and make up done.
The length was perfect even with high heels on just enough fabric sits just above my toes but still covers my shoes. So there was no tripping.
Zipper easy to use and in the perfect place for putting on by myself.
Could not be more happy with this buy. Highly recommend. Ten stars.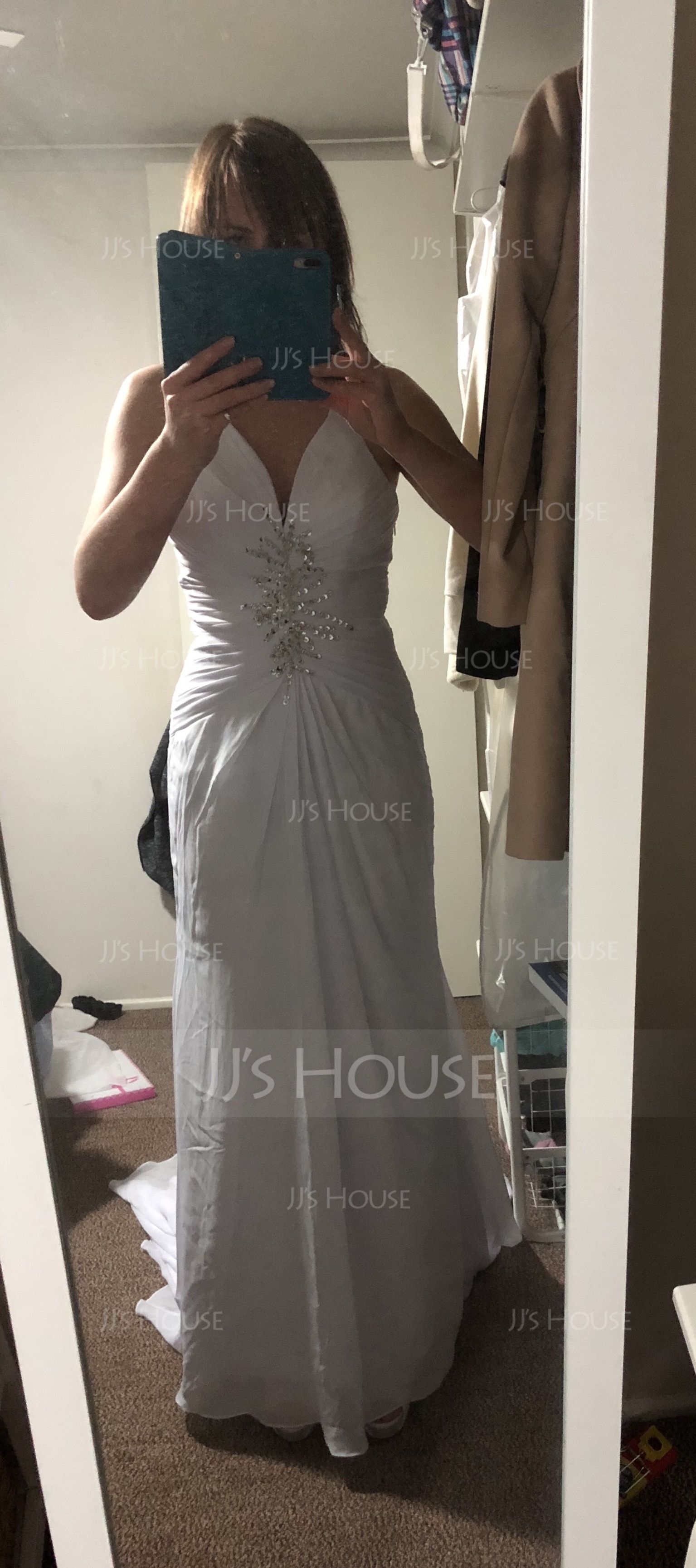 helenakarlsson10
2017-07-13 02:49:20
så fin den är och passade perfekt ❤

helenakarlsson10
2017-05-25 01:47:54
Klänningen var perfekt ❤

quantella28
2017-05-10 12:29:58
Looks better in person. Very happy with this dress.
ninasprayberry
2017-05-05 17:58:23
Nice dress delivered on time as described.
jochick24
2016-12-28 04:16:49
Looks as per the photo. Good quality fabric and stitching of beading has been done beautifully. Only thing is the train is very long, but it is as per the photo's description. I had to tailor it just a bit shorter to my liking. However, Custom Measurement was done accurately so was very happy with the fit of it. The dress makes me feel and look like a princess:) Thanks so much JJ House :)
Erica Helen Horsley
2016-08-12 15:54:29
I was a bit skeptical at first about ordering online without trying the dress on, but read a lot of positive comments. The dress took a few weeks to arrive, but I could easily track my order and ask any questions to the very helpful team.On the day of my wedding, everyone commented on just how stunning the dress was/looked on me. As soon as I saw it, I knew it was 'the one' Thankyou SOOO much JJ's house and for a gorgeous price too.
ivydolphinlover
2015-07-21 08:05:13
I receive my beautiful mermaid chiffon wedding dress and it's totally what it looks like on screen the fit the feel is just lovely I look stunning in my dress I would order from here again thank you really love it
Toni
becca_sue23
2014-03-24 09:59:08
I got my dress today and it is beautiful. I got it soon than expected. I love how light the fabric is. It is perfect for my wedding in june. I do have to have a few alterations because I ordered a little big it was custom made. My advice get your exact size. If I would have it would fit perfect. Can't wait to order more dresses.
Rene Blair
2014-03-14 13:54:26
Received my wedding dress today .. WOW i love it its everything i wanted thank you soo much shipping was so fast once dress was made definatley would but from jjhouse again